I have been absolutely obsessed with Bella's room since the moment I saw it. I love the simplicity and how all of the different colors just seem to work. I wanted to re-create Bella's look for my room because it's the best way to show your love for Twilight without being obvious. I'm making this blog post to show everyone how I re-created Bella's room. I wish I would have had a guide when I started on my room, but after hours on internet research, I can now provide other fans with one.
Bella's room is not hard to re-create at all, you just have to be creative.
There are several rules:
Rule 1: Do not look for exact matches. Most of the things in Bella's room are discontinued and after speaking with several companies, they will remain discontinued.
Rule 2: Ebay is your friend. Embrace the Ebay.
Rule 3: Add your own little touch here or there. Just because it's a remake doesn't mean you can't make it yours.
Rule 4: Paint can be a pain. You can look at 50 different pictures of Bella's room and each one will be a different shade of green. Sometimes it's olive green, sometimes it's turquoise, sometimes it's light green. Go with the color you love.
Rule 5: Realize the size of your room. Most likely, you won't have a room the same size/shape of Bella's so do what works for your room.
Rule 6: Spray Paint does wonders ;)
Rule 6: Have some frames of reference. Trying to see what Bella's room looks like by watching the movies doesn't work. Why? Well...how are you supposed to look at a room when Rob & Kristen are on the screen? Here are the pics I used: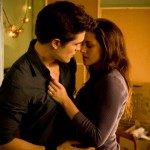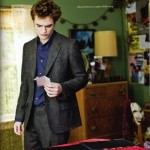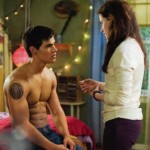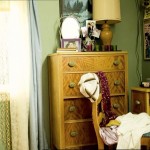 First I want to show you what my room looked like before. I already had Bella's bedding, but I wasn't using it anymore and had a bright colored bedspread. I opted to buy a new set of Bella's bedding as my other was a couple years old. I also had Bella's lamp from Ikea already (I'll provide a link a little further down). My room was plain and...honestly just boring lol
I know what you're thinking...wow white walls AND white curtains? oh yeah I like to keep things interesting ;) Also, as you can see I hadn't finished getting frames and such up and bedskirt? yeah lost that.
This is an excellent idea because if you have carpet like me, it's gonna have to go ;) Also it's the perfect opportunity to deep clean your room. After completely emptying it, I went around and washed down the walls, doors, and baseboards. Something about painting over possibly dirty walls just doesn't sit right with me. With my dad's help, I ripped up the carpet and removed all staples and nails that needed to go for the wood flooring later.
After getting my room ready, I headed out to look for paint. Like I said before, paint is a serious pain and honestly you can look at every brand in every store and you still will probably not find the exact one. However, I think the one I ended up going with is pretty damn close.
I chose 'Apple Orchard' from the Color Place brand at Walmart. Yes, I know *GASP* WALMART?! Hell. yes. Another thing I learned while looking for paint is you will most likely buy an expensive brand in the wrong color, paint your room, and realize it's crap.
Here's my room, all nice and painted:
This color is SO nice...
However, if you just can't bring yourself to buy the cheap stuff from Walmart, I think "Geranium Leaf" by Behr is a close match as well.
Now, I realize not everyone can change their flooring and that's totally fine. Remember, it's YOUR room. I decided to go with wood flooring because my carpet is 9 year old and it kinda creeps me out. We never really see Bella's floors in the movie...I assume they're wood?
Anyway, dark floors look AWESOME with light colored walls.
Btw...see what I mean about these damn green walls? They look a different color then the first one I posted *sigh*
I searched for hours online to find the exact items or replicas online. Here's what I found (w/ links to yay!):
I was unable to find exact matches for every single thing on this desk, however this is where you can add a touch of your personality to the room. Purple frames, small mirrors, and that photo holder can be found anywhere.
I found a small, similar mirror at Hobby Lobby in Black and had my dad spray paint it white. I also already had a photo holder similar to hers.
I was able to find one exact piece....
Shelf - I bought a board at Home Depot for $3.00 and my dad made it into a shelf that was similar to Bella's. As for the things on top of Bella's shelf, that's all up to your and your creativity.
I chose a tea light candle holder, a london bus, a mini Eiffel tower, a leaf from Vancouver and a picture of Rob and I.
Bamboo Rings Window Drape - According to who you ask, Bella's bamboo rings window drape is from IKEA or Pier One. However, it is discontinued at both companies. I relied heavily on ebay for this one and after searching for days and typing in all kinds of stuff, I was able to score one. My advice is to just keep checking everyday. Not sure if mine is exact or similar...but then again neither is anyone else :P
Bella also has white sheer curtains and solid light blue ones. You can find these at any store and it really just comes down to preference. I found mine at Target.
Surprisingly you can find Bella's nightstand at Walmart's website. I decided to keep the night stand I already have, but here's the one she has:
The actual mirror used in Bella's room is no longer available. However, check furniture stores, thrift stores, ebay, etc to try and find one similar. I'd even check craigslist! Also, If you have a crafty person in your family, you can even make it yourself.
I was able to find a similar mirror in Hobby Lobby for $150 and my dad made the design for the top and spray painted it ivory.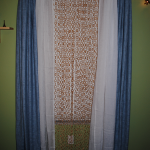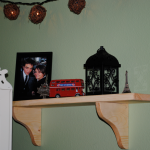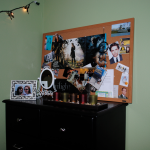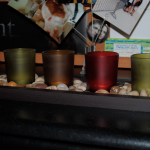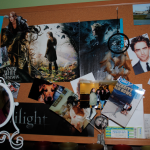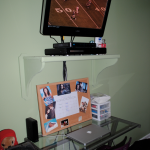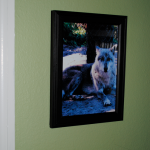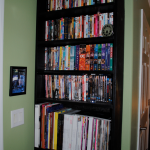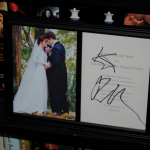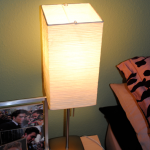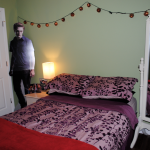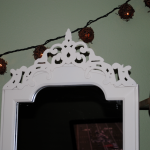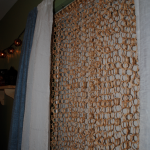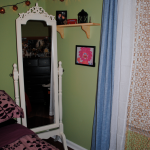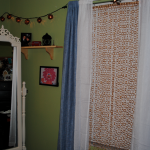 *All images from the film belong to Summit Entertainment*